Columbus Flying Club Mission Statement
Columbus Flying Club's mission is to share among its members, their passion for aviation and to further their knowledge, skill, and the joy of flying to all who have an interest in aviation.
Who we are and what do we do
Columbus Flying Club's membership consist of aviation enthusiasts of all ages and experience, pilots and non pilots, sharing their knowledge and friendship.  We hold regular get togethers, sharing hangar stories, and coordinate fly outs to fun destinations!
If aviation interests you, schedule a visit with us at Don Scott, OSU airport. We'll give you a tour of our facilities, you'll meet some of our members, and see our fleet of aircraft. 
What kind of aircraft do you fly?
Columbus Flying Club maintains a fleet of light sport and single engine piston aircraft. The club's fleet maintenance program meets or exceeds all state and federal requirements, which keeps our aircraft flying safe.
Flight Design CTLS & CTSW
The CTLS is a modern aircraft featuring carbon-fiber and Kevlar construction and equipped with a full airframe parachute recovery system.  The CTs are super responsive and very much fun to fly!
Cessna 172N
The Cessna 172N is a time-tested and fully capable trainer. The 172N is well known for it's stable handling characteristics.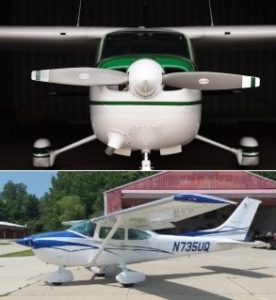 Cross Country Flyers
The Cessna 177 and Cessna 182 are great for cross country trips
More details are available on our aircraft information page.